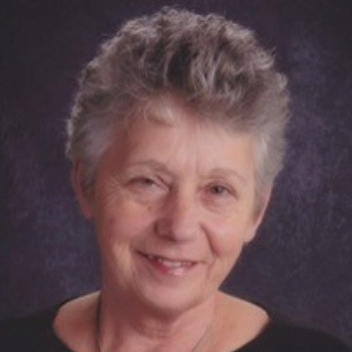 Raymond M. Leduc in honor of Claudine M. Leduc
The Claudine M. Leduc Memorial Scholarship was established by Raymond M. Leduc, Sr. in memory of his wife, Claudine M. Leduc (03/21/48 – 09/17/12).
Claudine Marie Martin was born in Besançon, France. In 1951, she immigrated to Canada with her parents and two older siblings. Four years later, as a non-English speaking seven-year-old, Claudine and her family immigrated to the United States.
Following her high school and beautician school graduation, Claudine worked as a hairdresser for a few years. Moving to Newburgh when she married Raymond Leduc, a teacher in the Newburgh Enlarged City School District, she was a stay-at-home mom of three sons for several years.
At the age of thirty, Claudine took her first college course. It took her seven years to earn an Associate Degree in Early Childhood Education and three additional years to get a Bachelor's Degree and New York State provisional certification in Elementary Education and in French. Six years later, Claudine earned a Master's Degree and permanent certification.
At the age of forty-one, Claudine was hired by the Newburgh Enlarged City School District. She was a fourth-grade teacher at Vails Gate High Tech Magnet School for eighteen years and taught French at Meadow Hill Global Explorations School for two years before retiring in 2009.
In retirement, Claudine was a member of New York State United Teachers, Newburgh Teachers' Association Retired Chapter, and the Newburgh Area Retired Teachers' Association. She was also a member of the Town of Newburgh Tappers and the Marlboro Free Library Book Club.
In addition, Claudine took Adult Education Knitting & Crocheting classes at Marlboro High School and taught it in her home to her friends. She was an avid reader, an excellent cook and loved to share her books and her recipes. She also enjoyed traveling. But above all came her family, which brought her the greatest happiness.
At her time of death, she had two daughters-in-law, and six grandchildren. Since then an additional daughter-in-law and two grandchildren have been added to the family.
Claudine died at the age of sixty-four following a short, but courageous battle with cancer.
Impact
This scholarship was created in 2020.
"I want to express my gratitude at being selected as the recipient of the Claudine M. Leduc Scholarship Award. I thank you for this scholarship, as it will help me to continue working on achieving my Associates Degree in Cybersecurity. I am a freshman at SUNY Orange County Community College. I decided to attend part-time to ensure my academic success, because I work full-time, and I also wanted to give my classes 100% study time as I have difficulty studying. In the five years following my graduation from Newburgh Free Academy High School, I have worked retail to help support my family. During the Covid-19 pandemic, I decided to make some changes and start college so I could have a better life. I understand balancing school, work, and life in general would be difficult, but I know it will all be worth it. My plan for the future is to finish college, find a good job with a reputable company that would allow me to continue to help my family and give myself a better life. This scholarship will help to alleviate some of the financial stress I'm already under by reducing any extra monies I may need to borrow to cover tuition. Again, my heartfelt thanks and sincere gratitude." – Matthew Ledo