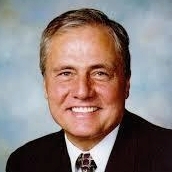 Honorable John J. Bonacic
Senator John J. Bonacic is a retired politician from New York. A Republican, Bonacic represented New York State Senate District 42 (which includes all or parts of Delaware, Sullivan, Orange, and Ulster Counties) from November 1998 to 2018. Prior to his Senate service, Bonacic served in the New York State Assembly.
He was born in New York City and grew up in the Hell's Kitchen area of Manhattan. He went to Iona College on an academic and basketball scholarship. He was the recipient of Iona's Economics Medal for his undergraduate work and graduated Magna Cum Laude. After college, he worked for Orange and Rockland Utilities, while attending Fordham Law School at night.
Upon graduation from Fordham, John and his family moved to Orange County where he served as an Assistant District Attorney and on the Town of Mount Hope Planning Board. He later served in the Orange County Legislature (1973 – 1989), where he was Majority Leader and Chairman. He served in the NYS Assembly from 1990 – 1998, and was elected to the State Senate in 1998.
As a long time supporter of the College, Senator Bonacic was responsible for helping to secure a $19.5 million grant for SUNY Orange in 2008 to help build the Rowley Center for Science and Engineering in Middletown.
In 2011, Senator Bonacic was named Chairman of the Senate Judiciary Committee. In that capacity, he was responsible for oversight of the Governor's Judicial Nominations, as well as all proposed Constitutional Amendments, as well as matters relating to the practice of law in New York State. He was also Chairman of the Senate Committee on Racing, Wagering and Gaming. That Committee has oversight of the State's horse racing industry, as well as casino gaming in New York State.
Senator Bonacic resides with his wife in Mount Hope, Orange County. They have two adult children and three grandchildren.
Impact
This scholarship was created in 2003.
"My educational pursuits would not have been possible without your generous donation. Thank you for supporting me in reaching my fullest personal and professional potential. Your generous donation means a lot to me. I will achieve my dreams of completing my studies and obtaining the nursing certificate that I dream of because I cannot wait until I start working within my specialty, helping people, and putting smiles on people's faces. With your generous giving, I learned that goodness exists anywhere, and I learned not to give up because giving is everywhere, and good people are always on our way to achieving our dreams. Thank you very much Mr. John Bonacic from the bottom of my heart ,your generous donation means a lot to me, and I will never forget you for the rest of my life." – Loiy Herzallah