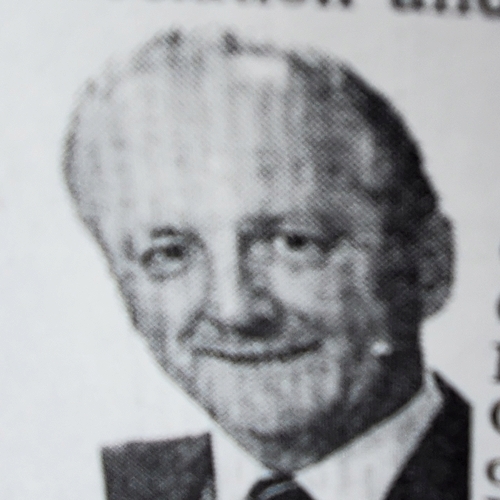 Family and Friends in honor of George R. "Bucky" Bartlett Jr. and Helen K. Bartlett
Originally established by family and friends in memory of George R. "Bucky" Bartlett Jr., a former Orange County legislator and Walden mayor, who died at home on April 16, 1999. His wife, Helen Konefal Bartlett, requested that her name be added to the scholarship upon her demise, along with a gift to be given to the college at that time. Helen, a lifetime resident of Walden and Pine Bush, passed away on November 21, 2019, in Anchorage, Alaska.
George Bartlett Jr., the son of George R. and Elizabeth Ward Bartlett, was born on Sept. 5, 1927, in Walden. He began his political career in 1958, when he was elected Walden village trustee. He served as trustee and acting mayor from 1958 to 1960. Bartlett was one of the original legislators when the county Legislature was founded in 1970. Bartlett represented parts of the Town of Montgomery and Crawford in the 9th District for 23 years. He retired from the Legislature in 1993. Bartlett, a life-long resident of the area, was an attorney at Bartlett & Bartlett in Walden.
Bartlett suffered from polio when he was a teenager. Because of the effects of polio, he could not run, and walking was painful for the rest of his life, said his son, George R. Bartlett III. He said his father was driven to serve his community. "I think he felt it was his civic duty, and he just loved his community," he said. "He grew up here. His parents lived here. He just loved Orange County, and particularly Walden."
Former Orange County Majority Leader James C. Wright recalled that Bartlett was a strong advocate of Orange County Community College. Wright said Bartlett was instrumental in many of its successes. Bartlett was a "clear thinker," who was "not wishy-washy in any way." Legislature Chairman Richard L. Hansen Sr., R-Unionville, said "Bucky was quite a guy. Very thorough. I learned quite a bit from Bucky." As chairman of the County Legislature's Protective and Educational Services Committee from 1970 to 1993, Bartlett had oversight of the College. "He was looked up to by all those who were involved," Hansen said.
Bartlett was president of the Orange County Bar Association in 1967 and 1968. He was a member of the Grievance Committee of the 9th Judicial District from 1982 to 1992.
Bartlett was director emeritus of Key Bank of New York and was a director of Fair-Rite Products Corp.
He was a former member of the St. Luke's Hospital board of directors and the St. Luke's Hospital Foundation. He was a past deacon and elder of the First Reformed Church, where he was a member.
Helen was the daughter of John Konefal and Mary Gusicoria Konefal. She was born on May 22, 1936, in Pine Bush, New York. Helen was a lifelong student and teacher. She earned her B.S. from the NYS Teachers' College at Albany and her Masters from Hunter College. Helen was the recipient of an NDEA Grant in Russian Studies. She used the grant to pursue Russian Studies at Dartmouth College, Vassar College, Indiana University, and in the Soviet Union during the height of the cold war.
Helen taught at South High School in Valley Stream, Long Island, and Valley Central High School in Montgomery N.Y. Later in life, she studied French at SUNY New Paltz. Helen was multi-lingual and continued to learn, study, and absorb language and culture throughout her life. Helen was raised in Pine Bush and lived on the Konefal Farm until the late 1960s, when she married George R. "Bucky" Bartlett, Jr. and moved to Walden. She was a devout Catholic and a member of Most Precious Blood Church in Walden.
Impact
This scholarship was created in May 1999. "This scholarship is especially meaningful in view of Bartlett's long history with the college and with the community," Dr. Preston Pulliams, president of the college, said. "We are happy to participate in this lasting tribute."
"Thank you so much for choosing me to receive this scholarship. It means so much to my family and I. A bit about myself, my family and I came from Puebla, Puebla City, Mexico.I was born and raised there for five years until I came to the USA around march of 2006. Due to this, I am not a legal citizen and am under the protection of DACA. Thanks to it, I am eligible for in state tuition and have a permit to work in the US. Due to this and our financial situation, I did not have many options when it came to college. I chose to major in the sciences at SUNY Orange in order to pursue a Biology degree. This is my second and last year at SUNY Orange and I am proud to have completed my
associates degree. I have completed what I wanted to do at SUNY Orange. One was to make lifelong connections with an amazing group of people and the other was to graduate in two years with my associates degree. My next steps are to transfer to CCNY this Fall and receive my bachelors in Biology and then eventually go into medical school. This scholarship will help me pay for tuition at CCNY and put me more at ease about it. Especially since a 4 year institution is more expensive. Once again, thank you for this opportunity and I plan to take full advantage of it." – Enrique Contreras