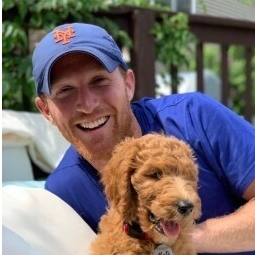 Anne and Gregory Prial in honor of Danny Prial
Established by Anne and Gregory Prial in honor of their son, Daniel Gregory Prial (1990-2021).
On the evening of Wednesday, January 20, 2021, Warrant Officer 2 Daniel Gregory Prial of Warwick, NY died unexpectedly in a helicopter training mission accident at the age of 30.
Danny was born on April 26th, 1990 on Long Island at South Nassau Communities Hospital to Anne and Gregory Prial. He attended St. Stephen's School and Warwick Valley High School. Upon graduating high school, Danny attended the United States Military Academy at West Point from 2008 to 2012. He entered the 82nd Airborne Division as a helicopter pilot and was deployed to Afghanistan during 2014 and 2015. In 2020, he joined the New York National Guard. Danny is survived by his beloved dog, Shea; his parents, his siblings, his nephew and niece, and his maternal and paternal grandparents.
Danny loved being raised in Warwick and this town was incredibly special to him. He was excited to move to Rochester because it was "only" a few hours' drive from Warwick, rather than a day of travel. Being a part of the Warwick cross-country and track team in high school was a formative experience, and he often wore his purple Warwick singlet from high school underneath his Army uniform. He preferred the cross-country season to track because it was more team-oriented, a value that he brought with him to the Army.
Danny was a passionate fan of New York sports, and he rode the (few) highs and (more frequent) lows of being a Mets and Jets fan. The Army-Navy game was always the sports highlight of Dan's year and he was overjoyed by Army's four wins against Navy in the past few years. Sports was one of the ways he formed so many friendships. He likely had more friendships than we will ever know, because of his outgoing personality and desire to connect with people: neighbors in his apartment building, strangers at the airport, and anyone on the golf course.
The genuine joy Dan felt from making friendships and spending time with his close friends fed his commitment as a soldier. Dan cherished fellowship, in the form of sports, sharing beers, or enduring challenges with his fellow soldiers. He connected with others so easily because he found value in the commonality of being American, and his time off and civilian experiences reminded him of why he sacrificed so much to serve in the Army.
Dan's mother Anne was the Associate Vice President for Business, Technology, Science and Math at SUNY Orange. Anne has always believed in the abilities and potential of SUNY Orange students and she and her husband Greg established this scholarship in Danny's name at the College as a tribute to Danny's love for all people.
Impact
This scholarship was created in 2021.
"I am honored to be the recipient of this scholarship. Your generous contribution has allowed me to pursue my Undergraduate Degree at SUNY Orange this coming fall. I am currently enrolled in the Jointly Registered Teacher Education Program (JRTEP) with a concentration in History and plan to transfer to SUNY New Paltz by August of 2022 to complete my Bachelor's Degree. I graduated from SUNY Orange in May 2021 with an Associate's Degree in Early Childhood Education. I loved my studies so much that immediately upon graduation I decided to further my education. I hope to eventually obtain a Master's Degree and teach history in a public school. I am married with two children at home, ages 14 and 5. I am also a very proud veteran with two deployments to Iraq and Afghanistan, where I worked with young children in gaining access to education services. This scholarship gives me the opportunity to focus on my studies without sacrificing my obligations to my family. I thank you for your confidence and willingness to help me achieve my goals." – Tasha Moakley