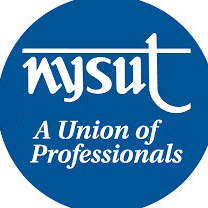 New York State United Teachers
NYSUT is more than 600,000 people who work in, or are retired from, New York's schools, colleges, and healthcare facilities. We are classroom teachers, college and university faculty and professional staff, school bus drivers, custodians, secretaries, cafeteria workers, teacher assistants and aides, nurses and healthcare technicians.
NYSUT is a federation of more than 1,200 local unions, each representing its own members. We are affiliated with the American Federation of Teachers (AFT) and the National Education Association (NEA). We are also part of organized labor – the AFL-CIO – and of Education International, with more than 20 million members world wide.
We range in size from tiny locals of fewer than 10 members to the United Federation of Teachers, which represents more than 140,000 teachers and other school employees in New York City.
We are dedicated to improving not only our working conditions, but also our professions. We're united in a common commitment to improve the quality of education and healthcare for the people of New York.
NYSUT is a grassroots organization. We elect the people who lead our local unions and or state and national affiliates. We elect delegates to a state convention – the Representative Assembly – who discuss issues and set policy that determines the programs and services that NYSUT provides us.
Our NYSUT officers, elected by the Representative Assembly, oversee a professional staff that carries out the union's business. The convention delegates also elect a Board Of Directors, which determines policy between conventions.
Impact
"Words can not express how much this means to me. I cannot thank you enough for choosing me as the recipient of your scholarship! This upcoming fall semester, I will be furthering my education at SUNY New Paltz. During my time at SUNY Orange, I enrolled in the honors program, where I produced a research paper on how full inclusion can positively affect children with cognitive disabilities. I also pursued my passion for education by majoring in SUNY Oranges Childhood Education. Especially their Jointly Registered Teacher Education Program (JRTEP) program, with a concentration in mathematics. This program allowed for a seamless transfer to SUNY New Paltz, where I will be furthering my education for my bachelor's this upcoming fall! I have always had a passion for working with children from a young age! I wish to help shape their minds into influential adults with a voice. For that reason, I have been pursuing a career in education! As I plan on pursuing my degree, I will always keep in mind that I am the first child in my family to receive a form of higher education. Thanks to your gratitude, I can make my immigrant family proud. They are why I strive to be the best version of myself, and thanks to this scholarship, it has helped us stay on track with our finances. Thank you for allowing me to live up to my dream of going to college. It is because of you all that this is possible. Thank you." – Veida Ortiz